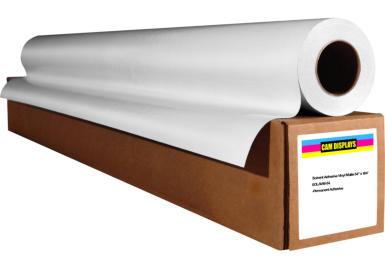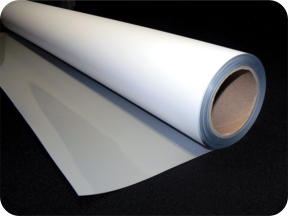 SOLRUM-36 Roll Up Media, 36"x100' $89.95
SOLRUM-50 Roll Up Media, 50"x100' $114.95
Roll Up Film
Anti-curl PET film compatible with all solvent printers.
Bright white, satin surface has superior ink adhesion,
scratch, water and tear-resistance. 145 microns or 6 mil
thickness. The gray, anti-static backing enhances printer
performance and has a 98% opacity. Created specifically
to be the best possible media for Roll-Up stands. Also
holds grommets, and cuts cleanly.

Compatible with Eco-
Sol, Solvent, UV, and Latex printers.
Gray-back, Anti-Curl, 6mil Film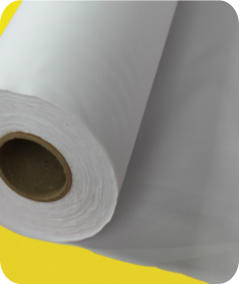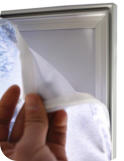 Woven BackliTex
Woven Backlit Textile lightly coated especially for
solvent / eco-solvent and UV printing. Can be sewn and
stretched tight for SEG frame systems. Matte white
coating eliminates pin-holing. Printed backlit looks just
as good as dye-sublimation. Woven fabric, bleached
and stabilized, 5.3 oz (180 gsm). Soft hand allows
draping. Flame resistance: NFPA701, M2, B1, B2.
Compatible with Eco-Sol, Solvent, Latex and UV
printers.
SOLBLT-54

Woven BackliTex Eco-Sol, 54"x98.5'

$209.95
SOLBLT-64

Woven BackliTex Eco-Sol, 64"x98.5'

$229.95

Adhesive Vinyl Matte
Premium, permanent adhesive, bright white vinyl.
Matte white. Calendared 4 mil. with special permanent
acrylic base glue. Adhesive Vinyl Matte provides great,
stable prints with strong adhesion. Up to 12 month's
outdoor durability. Economical. Widely used on
billboards, panels, windows, smooth walls and other
business place.
Compatible with Eco-Solvent, Solvent, and UV printers.
SOLAVM-54

Perm. Adh. Vinyl Matte, 4mil

$99.95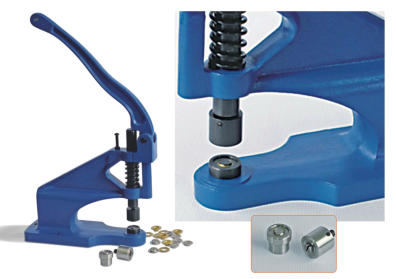 Grommetmaker
Heavy-duty cast iron, manual press. Coated finish.
Holds top grommet piece in place for easy, self-piercing,
one-press action. Includes both #2 and #3 Stainless
Steel Die Sets. Packed in formed foam, then boxed.
GRMAK-MA

Grommetmaker, self-piercing, #2 & #3 Dies

$99.95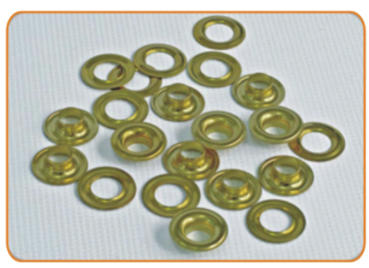 Brass Grommets
Heavy-Duty Outdoor Grommet & Washer Sets
#2 and #3 Brass, self-piercing
GRB500-#2

Brass Grommets, 500/bag, self-piercing, #2

$38.50
GRB500-#3

Brass Grommets, 500/bag, self-piercing, #3

$59.50